Available Dates
There are currently no courses available to book. If you would like us to run this course in your workplace or to be notified when a course becomes available, please call us on 01235 810619.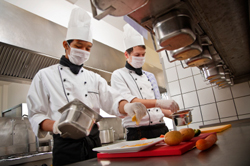 LEVEL 1 IN FOOD SAFETY IN CATERING
Description: The three hour course is suitable for a variety of candidates, including new employees with minimal or no prior food safety knowledge, employees handling low-risk or wrapped food or those who work front of house, such as waiting or check out staff, as well as back of house such as kitchen porters or warehouse staff.
Learning Hours: 3 hours
Please check the available dates on the right or contact us on 01235 810619 for more information.