Available Dates
There are currently no courses available to book. If you would like us to run this course in your workplace or to be notified when a course becomes available, please call us on 01235 810619.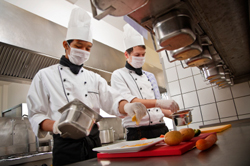 CIEH LEVEL 2 AWARD IN FOOD ALLERGEN AWARENESS
Description: Under the Food Information Regulations 2014, food business operators have a legal responsibility to provide complete and correct food allergen information to customers. These regulations apply to all catering and retail businesses that serve or sell loose foods.

This half day CIEH Level 2 Award in Food Allergen Awareness course has been designed to help food handlers to:
• Understand the impact of food allergy and intolerance
• Identify, manage and control the risks associated with food allergens
• Apply the principles of practical allergen management to develop good practice in the workplace
• Provide allergen information, with confidence.
Learning Hours: 3 hours
Please check the available dates on the right or contact us on 01235 810619 for more information.