Available Dates
There are currently no courses available to book. If you would like us to run this course in your workplace or to be notified when a course becomes available, please call us on 01235 810619.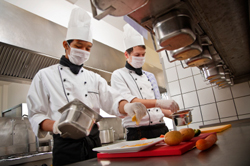 CIEH INTERMEDIATE CERTIFICATE IN FOOD SAFETY
Description: A CIEH course designed for anyone working in a catering, manufacturing or retail setting where food is prepared, cooked and handled.
There will be a CIEH 30 question exam at the end of the course.
Learning Hours: 21 hours
Please check the available dates on the right or contact us on 01235 810619 for more information.